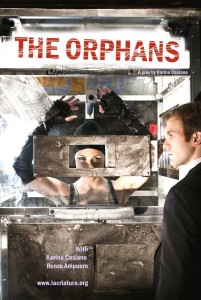 I am proud to announce that theater play 'The Orphans' opens this coming Thursday June 9th at Connelly Theater in New York City as part of the TeatroStageFest 2011.
This wonderful play written by multi-faceted performance artist, singer, dancer, actor, director and playwright Karina Casiano is poetically set on a futuristic scenario, ruled by chaos, injustice and rebellion.
I was fortunate to write original music for it, being this one my first work as a composer for theater in New York City.
About THE ORPHANS premiere at La MaMa in December 2010, Backstage said:
"An unusual blend of physical theater, science fiction, and political parable…
'The Orphans' twists the formula".
"…everything significant is conveyed through graceful, stylized,
and seemingly gravity-defying movement."
The New York Theater Review said:
"The story is told through death-defying contact improvisation with walls,
set pieces, and finally each other."
"Both performers' stunning and minutely-specific physical control
is consistent and equally impressive throughout the performance."
You are all invited to experience this show and support New York City's culture.
Presented at the Connelly Theater on June 9th, 10th and 12th, 2011.
For more info and to buy your tickets click here
Link to Karina Casiano's official website – click here
The Orphans cast and crew
Written by Karina Casiano   Original idea by Karina Casiano and Jorge Dieppa
Performed by Renzo Ampuero and Karina Casiano
Choreography: Daniel Irizarry, Karina Casiano and Renzo Ampuero
Set Design: Jorge Dieppa     Lighting Design: María Cristina Fusté
Costume Design: Awymarie Riollano    Props and Special Effects: Antón Lago
Music: Andrés Rotmistrovsky    Stage Manager: Edna Lee Figueroa
Technical Director: Miguel Ángel Valderrama   Set Coordinator: Yanko Bakulic