Andres Rotmistrovsky is a New York C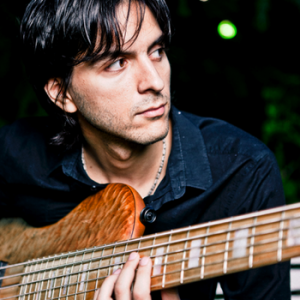 ity based bassist, producer and educator.
Has played and/or recorded with acclaimed artists such as Joan Baez, Sertab Erener, Paquito D' Rivera, Eva Ayllon, Leon Gieco, Marta Gomez and Eva Cortes.
Has appeared in prestigious venues such as Blue Note Jazz Club, Carnegie Hall, Lincoln Center, Latin Grammys, Apollo Theater, Nokia Theater and Boston Symphony Hall.
Has toured the U.S. and the world several times (e.g., Europe, Africa, Latin America and Asia) with various jazz/world and Latin groups.
Performs actively in the New York music scene, displaying versatility in playing virtually all styles of music from traditional and contemporary Jazz to R&B, Gospel, Pop, Rock, Celtic, Afro Beat, Flamenco, and Middle Eastern to Latin folkloric music from Peru, Brazil, Cuba, Colombia, Mexico, Uruguay and Argentina.
Andres' unique and innovative style of arranging and playing popular songs for Solo-Bass guitar called the attention of music critics and listeners all over the globe. He has been featured several times at the prestigious 'All Bass. No Treble', 'Basstheworld.com', 'Bass Musician Magazine', as well as 'For Bass Players Only', just to name a few.
Born in Buenos Aires (Argentina), Andrés started his musical career from a very young age upon discovering and completely falling in love with the bass guitar. No one could stop him from practicing; very soon after at the young age of 14 he began his career as a professional musician playing Jazz and Rock in different venues and festivals.
In 2003 he moved to the United States to attend Berklee College of Music (Boston), where he was awarded with several scholarships including the "International Award 2003," the "Charles Mingus Award 2007," and the prestigious "Outstanding Performer Award 2007". At Berklee he studied with Matt Garrison, Joe Lovano, Terry Lyne Carrington and Oscar Stagnaro, amongst others. He graduated with honors in 2007, majoring in Jazz Composition.
Andres endorses Sukop Bass Guitars (www.sukop.com), Accuracy Basses (http://www.accuracybassesusa.com/), Traveler Guitar (http://www.travelerguitar.com/)  Mono Cases (www.monocase.com) and Source Audio effects (www.sourceaudio.net)
[ESPAÑOL]
Andrés Rotmistrovsky es un bajista, docente y productor musical radicado en la ciudad de Nueva York.
Graduado con honores de Berklee College of Music en donde recibe los prestigiosos premios: ¨Outstanding Performer Award¨ y ¨Charles Mingus Award¨.
Ha tocado en algunos de los escenarios más reconocidos en el mundo como Blue Note Jazz Club, Carnegie Hall, Lincoln Center, Latin Grammys y Boston Symphony Hall. Compartiendo escenarios con artistas de la talla de Eva Ayllón, Joan Baez, León Gieco, Gonzalo Aloras, Victor Heredia, Axel Fernando, Teresa Parodi, Sertab Erener, Miguel Cantilo y El Bahiano.
Sus arreglos para bajo eléctrico solista han llamado positivamente la atención de muchos amantes de la música, recibiendo menciones especiales en publicaciones culturales y de prensa musical en todo el mundo.
Andrés ha dictado talleres de música en Estados Unidos, India, Colombia, México, Argentina, España y Madagascar.
Es endorser de Sukop Bass Guitars (www.sukop.com), Accuracy Basses (http://www.accuracybassesusa.com/), Traveler Guitar (http://www.travelerguitar.com/)  Mono Cases (www.monocase.com) y Source Audio effects (www.sourceaudio.net)