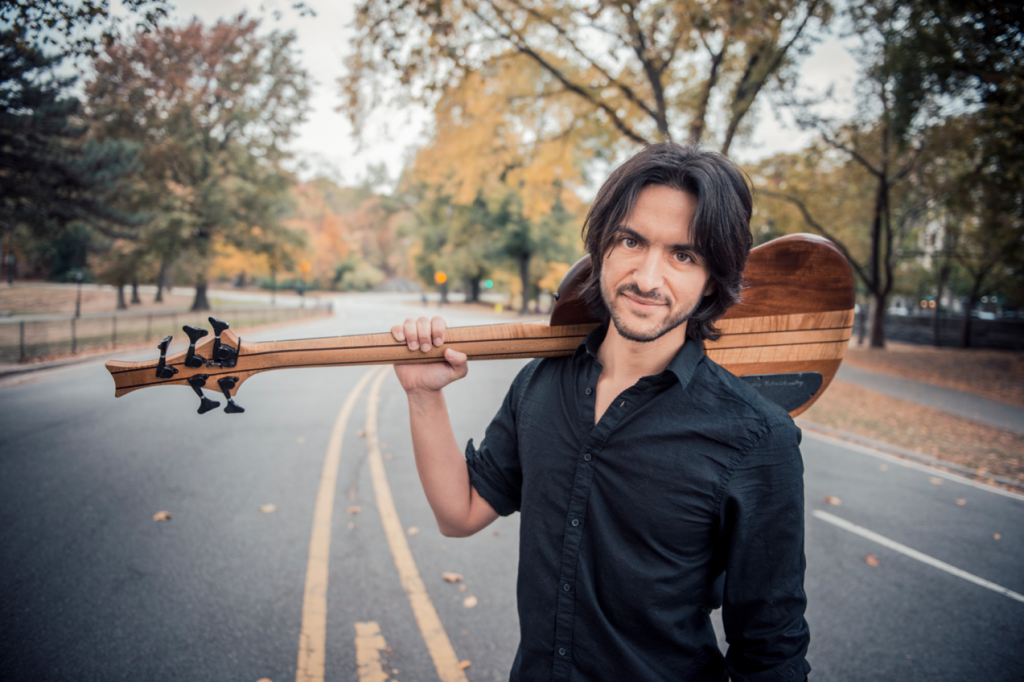 Andres Rotmistrovsky is a rising star who is in demand. His bass guitar is heard on more than 50 albums and he has worked with acclaimed artists including Joan Baez, Sertab Erener, Ruben Blades, La Mala Rodriguez, Eva Ayllon, Leon Gieco and Marta Gomez. He has toured the world several times and performed in prestigious venues including The Blue Note Jazz Club, Carnegie Hall, Lincoln Center, at the Latin Grammys, The Apollo Theater, Nokia Theater, Boston Symphony Hall and the Montreux Jazz Festival.
Andres composed and arranged 9 tracks for his debut CD "Upbeat" which was released in 2011 to rave reviews. Bass Player Magazine called Andres "a talented newcomer" and lauded  "Upbeat" as "a superb beginning to what should be many more musical masterpieces."
He has created quite a buzz with his melodic approach to bass and has been featured in publications and on websites including
All Bass. No Treble
,
Bajos y Bajistas
, 
Basstheworld.com
, Bass Musician Magazine and
For Bass Players Only
. Andres holds down the bottom while setting a slot which combines melody and harmony to create a vibrant, lyrical sound. His bass sings.
A native of Buenos Aires, Argentina; Andres attended Berklee College of Music in Boston on several scholarships – The International Award, the Charles Mingus Award and the highly coveted Outstanding Performer Award. After graduating with honors with a degree in Jazz Composition in 2007, Andres relocated to New York where he currently is based. He performs around the world while continuing to hone his unique style playing, arranging, and producing.
He is sharing what he has learned as a dedicated music educator and he remains a devoted researcher of the endless treasures in music.Andres endorses Sukop Bass Guitars (www.sukop.com), Lorita Basses (https://www.facebook.com/loritabasses), Reunion Blues Cases (http://reunionblues.com/), Traveler Guitar (http://www.travelerguitar.com/), Aguilar Amplification (http://www.aguilaramp.com/) and Source Audio effects (www.sourceaudio.net)

Biografía
Andrés Rotmistrovsky es un bajista, docente y productor musical radicado en la ciudad de Nueva York.
Graduado con honores de Berklee College of Music en donde recibe los prestigiosos premios: ¨Outstanding Performer Award¨ y ¨Charles Mingus Award¨.
Ha tocado en algunos de los escenarios más reconocidos en el mundo como Blue Note Jazz Club, Montreux Jazz Festival, Carnegie Hall, Lincoln Center, Latin Grammys y Boston Symphony Hall. Compartiendo escenarios y grabaciones con artistas de la talla de Rubén Blades, Joan Baez, Eva Ayllón, León Gieco, Teresa Parodi, Marta Gómez y La Mala Rodríguez.
Sus arreglos para bajo eléctrico solista han llamado positivamente la atención de muchos amantes de la música, recibiendo menciones especiales en publicaciones culturales y de prensa musical en todo el mundo.
Andrés ha dictado talleres de música en Estados Unidos, Canadá, India, Nepal, Argentina, Colombia, Ecuador, Venezuela, México, España y Madagascar.
Es endorser de Aguilar Amplification (http://www.aguilaramp.com/), Sukop Bass Guitars (www.sukop.com), Lorita Basses, Traveler Guitar (http://travelerguitar.com/artists/item/andres-rotmistrovsky) y Reunion Blues Cases (http://reunionblues.com/artist/andres-rotmistrovsky).