I started playing solo bass arrangements a few years ago after indirectly following the advice of saxophonist Joe Lovano; I studied with him at Berklee and he would encourage students to play unaccompanied, and most importantly: to make it sound like music!
For a while I practiced playing jazz standard tunes by myself on either electric or upright bass; I would play the melody, then a walking bass line or any kind of bass line as if there was a soloist playing over it and then I would play a bass solo. I have to say that practicing playing this way has drastically improved many aspects of my musicality.
At some point I found myself playing the melodies of many songs -most of them by the Beatles or by some of the great composers of the argentinean song book- Without taking that very seriously, I would spend a lot of time playing those melodic statements with the bass, enjoying the entertaining challenge of making them sound closer to the vocals in terms of articulation and interpretation.
Being a quite curious person, I started wondering how to figure out ways to play those melodies along with the bass lines of the songs.
I did not let my often tangled fingers discourage me in the beginning and soon after I could play a few simple tunes unaccompanied on the bass. the first song that I learned to play with chord-melody was "In my life" by the Beatles. I think it was really important that I figured out this technique by playing actual songs that I loved rather than just exercises or random music cadences dictated by my bass guitar.
The truth is that I would be too shy to perform live or upload a video of myself playing bass and singing along, and that is a big reason of why I started playing this way. I could also not easily find many musicians to play this repertoire of songs, instead of waiting I just decided to play them by myself!
At Berklee I majored at Jazz Composition, and I spent quite a lot of time and thought in learning and incorporating elements of harmony, counterpoint and different melodic devices. I feel this has really shaped my playing and the way I arrange this songs.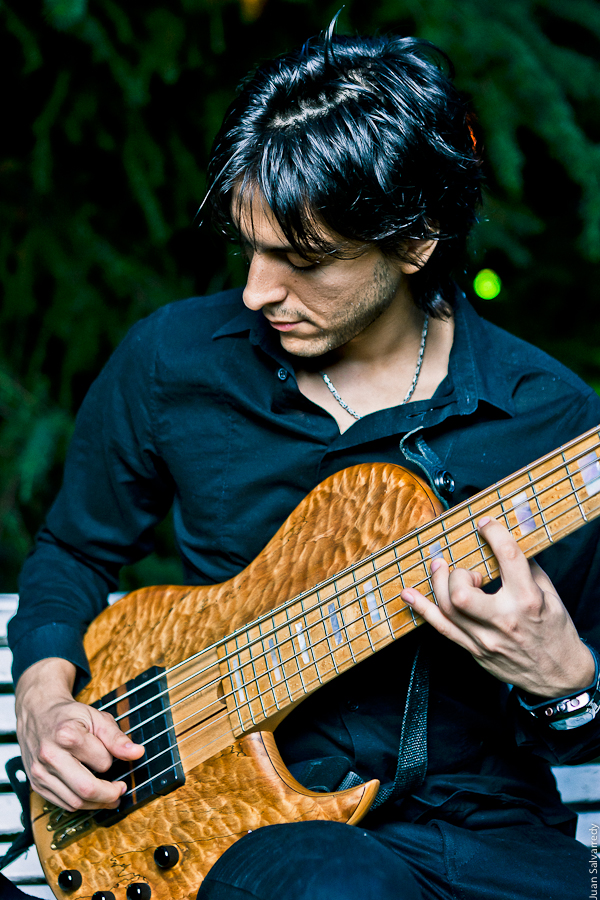 The technique called 'Chord-melody' consists in playing the melody along with the bass line and sometimes another melody line or "voice" in between those two.
It is not difficult at all in theory – chord melody playing is really easy to do for a piano player – but for us bass players we have to learn how to visualize the bass guitar and see it and incorporate it just like a piano player would do it.
We can do this easily on the bass guitar by learning all the note names within the whole fretboard, by knowing many different positions and the 'singing' sound of a single scale, it is important to incorporate the theory of how harmony works in counterpoint.
I have encouraged myself in the past to transcribe by ear as much music as I could – This really helped me to have more freedom at the time of playing music.
If you want to get into this technique I suggest that you take a simple song that you really like, play the bass notes singing the melody. Then transcribe and play the melody, after that spend some time figuring out how to play those 2 lines together: bass and melody.
After that you can add a third melody line in the middle, that voice is the "subliminal" one; the listener will not be totally aware about it so you can play some more obscure lines, with chromaticisms or other melodic counterpoint elements to create balance between the gravity of these melodies.
You can check my playlist of Solo Bass arrangements on Youtube at this link: http://www.youtube.com/playlist?list=PL4663C693AFAF076C
And you can download my Solo Bass Album for free at: http://andresrot.bandcamp.com/album/solo-bass-songs-live-vol-1
Thanks for reading!
All the best,
Andres